Online subscriber zone subscription info & timetable
Updated Monday, 18 October 2021
TERMS & CONDITIONS
| | |
| --- | --- |
| | (Scroll down for timetable, equipment advice and how to install the zoom app) |
"Client wellness and healing through exercise and a health-promoting lifestyle"...



Request a one week free trial subscription!





...How our Subscriber zone works

Picture:

The dashboard to our weekly subscriber zone. Each Monday we send you a link...
Subscription auto-renews each month.
You can cancel at any time by sending a request through our contact form
Each week we send you an email with a link.
Click on the link to go to our Subscriber zone. From there you can:-
click to join us for online mat classes on Zoom
do a one-hour pre-recorded mat class in your own time.
watch and learn from an in-depth video solution (does not replace the advice of your doctor or physio).
contact us directly from our subscriber zone to ask questions and provide feedback.
Our subscribers are special and we want to look after you!
Email us your questions and special requests!
Picture: instructing live online
You'll need the Zoom app on your computer phone or tablet, more info here!...
Equipment you'll need to get the best from your online zoom - view video here!...
Online subscriber zone testimonial
"The online classes are amazing to participate in. Bruces' professional approach to using technology to reach out to people and help them with their aches, injuries and wellbeing is unprecedented. His commentaries are clear, succinct, multi-dimensional and in a time of stress his calm and confident voice carries through. His mindfulness for overall wellbeing is awesome and Bruce takes time to work on all aspects of wellbeing. Thank you Bruce so much".

IL, Invercargill
How to download and use the Zoom app...
Video: home eqipment you'll need for btpilates on zoom...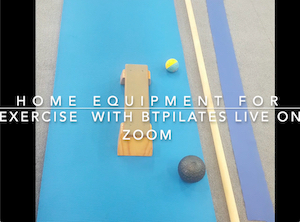 Free pilates try-out